Robinson R44 Time-building

at East Coast Aero Club with Philip Greenspun, ATP, CFI-H; updated July 2014
---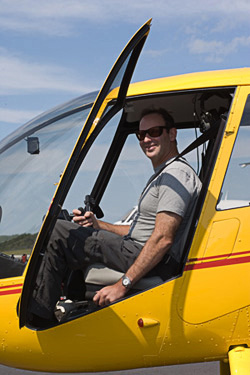 Want to get a job flying the Robinson R44, but don't have enough hours? After you've finished our R44 transition training course, build additional time with East Coast Aero Club.
Boston to Manhattan and back
We depart from Hanscom Field (KBED) in the morning, fly through downtown Worcester, Massachusetts and Hartford, Connecticut. We will stop in Oxford, Connecticut (KOXC) to refuel, and proceed to the Downtown/Wall Street Heliport in lower Manhattan. We pick up any friends who might want to go on a sightseeing trip around New York City, give them a quick tour, park for a couple of hours while we have lunch, then depart up the Connecticut shoreline, following the beach to Groton, Connecticut (KGON) where we will refuel before flying over the Foxwoods and Mohegan Sun casinos on the way to a sightseeing tour through Providence, Rhode Island before heading back to Boston.

This is a great trip for learning about the airspace of the northeast, procedures for transitioning Bravo airspace and busy control towers such as KLGA.

You'll log about 6 hours of time and pay the current rental rate plus heliport fees.
Boston to Maine and back
We depart from Hanscom Field (KBED) in the morning, following the shoreline at 500' MSL past the beach resorts of New Hampshire and southern Maine. We will contact Portland Approach before entering their Class C airspace. We will do a few sightseeing orbits over downtown Portland, Maine before landing to grab breakfast at the Portland airport. We will start up and proceed to Rockland, Maine (KRKD) to visit the antique airplane museum there. We will refuel and reverse course, stopping on the way back at a restaurant on the beach in Rye, New Hampshire.

You'll log about 4 hours of time and pay the current renal rate. Food and museum tickets are on us!
Merrimack River Tour
We depart from Hanscom Field (KBED) in the morning, flying up the Concord River through downtown Lowell, Massachusetts. We turn left up the Merrimack River and proceed through the old mill towns of Nashua, Manchester, and Concord, New Hampshire. You'll get experience transitioning through Class D and Class C airspace. If the winds are light and the clouds are high, we will proceed in and among the White Mountains of New Hampshire, rising as high as 6,000'. You'll get some pointers on mountain flying.

You'll log between 3 and 4 hours of time depending on the weather conditions and personal interest.
How to Book
Email philg@mit.edu with some convenient dates and preferred itinerary. We generally can accommodate whole-day trips with 1-2 weeks of notice.
---
Text and photos Copyright 2007-2014 Philip Greenspun. Photo at upper right is courtesy Ellis Vener.
---
philg@mit.edu