---
Between Rome and Florence you have probably the densest concentration of cultural and lifestyle treasures in the world. The regions separating these cites are Umbria and Toscana. If I were a serious travel writer, I'd give you deep sections on all of the three-star towns. The light frescoes of the cathedral of St. Francis in Assisi, my favorite in all of Italy. The medieval atmosphere of the Tuscan hill towns like San Gimignano. The art treasures of Siena, Florence's major rival. But I'm not a serious travel writer so all you get are two little photo exhibits.
San Galgano
Galgano was a knight born to rich parents in 1148 but he renounced the material world and also the arts of war. He attempted to break his sword against a rock, but instead the sword was swallowed by the stone, a sign that God approved of his project. He died a hermit in 1181 and was declared a saint in 1185.
A Cistercian abbey was built near the site of Galgano's hermitage in 1218 in Gothic style, reflecting the French origins of the monks. The abbey's church now lies in ruins in the magnificent Tuscan landscape.
Parco dei Mostri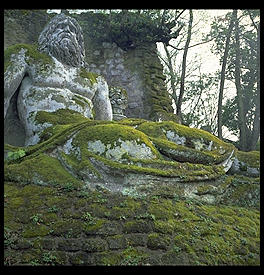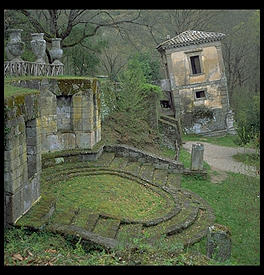 Once the backyard of the Villa Orsini, this 16th-century sculpture garden was built by the same sculptors who worked on St. Peter's. Subtlety is not wasted on these monstrosities.
[Practical note: the park is about 90 minutes north of Rome, near the town of Bomarzo, which has almost nothing to recommend it. I advise that you bring a picnic from Rome because I remember a particularly bad and expensive restaurant in Bomarzo. I also vividly remember being chased around the park by an old caretaker, upset that I was using a tripod. The Cadogan guide notes that the privately-owned park is run like an "Alabama roadside attraction, complete with tame deer for your children to pet, an albino peacock, miniature goats, and plenty of souvenirs. ... It may be the only important monument of the 16th century that neither the goverment nor anyone else is interested in preserving."]
---
---
philg@mit.edu