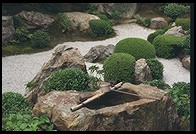 Itineraries for Japan
by Philip Greenspun; created 2000
---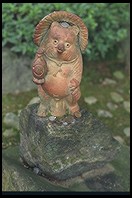 If you have the freedom to set your schedule, my best advice is not to start in Tokyo, a sprawling city of 30 million people. It will be easier to get your bearings and adjust to the time zone in a smaller Japanese city with a slower pace. Kyoto and Nara, about 2.5 hours by bullet train from Tokyo, are green and comparatively quiet places to start experiencing Japanese culture. You could spend a few days in Nara without becoming bored. You could spend a week in Kyoto without exhausting the worthwhile temples. Each has its own personality.
One Day (in Tokyo)
Get up at 0430 and hop in a taxi at 0500 to the Tsukiji inner market in time for the 0530 tuna auction. Breakfast at one of the little food stalls or sushi bars in the market.
Catch the Sumida River Trip boat at the Hama Detached Palace Garden (Hama Rikyu) up river to Asakusa. Walk up Nakamise-dori from the Asakusa subway stop. This is an adjacent shopping street with traditional crafts for sale. It terminates at Senso-ji, a Buddhist temple. If you're a museum nerd, catch a taxi to the Tokyo National Museum in Ueno Park. If you're a koi nerd, catch a taxi to the Koishikawa Korakuen Garden. If you're just a nerd, catch a taxi to the Akihabara electronics district.
Finish your day by taking the train or subway to Shibuya, which has boutiques, restaurants, department stores, cafes, hordes of young people, etc. If you're not too tired from having gotten up at 0430, take the JR Train up to Shinjuku and visit Kabukicho. This is one of Tokyo's red light districts. You'll see a lot of couples and groups of friends. You'll see comic books (manga) that you probably shouldn't bring home to your nephews. You'll learn that the average Japanese prostitute has better manners than the average American Harvard graduate.
Three Days (in Tokyo)
Day 1: As above
Day 2: Ginza and Imperial Palace, Jinbocho booksellers' district, Roppongi district at night
Day 3: Meiji shrine, garden of the New Otani Hotel, Suntory Museum


Seven Days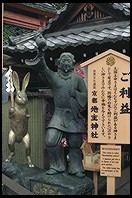 Day 1: arrive Kansai International Airport, JR Haruka limited express train to Kyoto station (75 minutes), dinner at hotel, sleep
Day 2: Kiyomizu-dera at 0600, Sanjusangen-do, Nanzen-ji, Philosopher's walk to Ginkaku-ji, get to Imperial Household Agency before 4:00 pm (M-F only) to make reservations for imperial palaces; have hotel concierge reserve you a spot at Saiho-ji
Day 3: Daitoku-ji, Ryoan-ji, Saiho-ji
Day 4: Imperial villas
Day 5: early morning bullet train to Tokyo, then start Day 3 of the three-day Tokyo tour
Day 6: the one-day Tokyo itinerary
Day 7: Day 2 of the three-day Tokyo tour


Fourteen Days
Start in Nara for 2 days. Stay in Kyoto for 6 days. Finish up in Tokyo for 6 days.
Twenty-one Days
Fourteen-day itinerary plus add one of the following:
a week in Hokkaido (north; relatively wild and open; good summer choice)
a week in Shikoku (small island south of Kyoto and Osaka; famous for temples)
a week in Kyushu (southernmost main island, contains the city of Nagasaki; good spring and fall choice)
---
philg@mit.edu