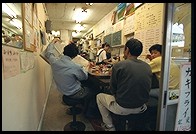 Tokyo
by Philip Greenspun; created 2000
---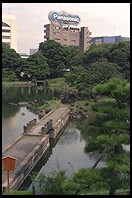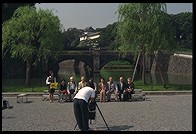 Tokyo is more a collection of villages than a city of 30 million. It sprawls but each neighborhood has a distinct character. Distances are vast and you should not try to visit more than two places per day.
Gardens in Tokyo are not as refined as those in Kyoto but they provide welcome oases of tranquility.

Shopping
Tokyo is home to the world's great shopping districts and department stores. Akihabara, the electronics district, has shops that sell nothing but mobile phone antennae. They also have multi-story home electronics stores broad enough to include $50 boom boxes and MP3 players along with $70,000 pairs of loudspeakers and $20,000 tube amplifiers (see http://philip.greenspun.com/materialism/stereo for an explanation of the high-end audio culture in the US). A department store will carry all types of food in the basement, clothing on the first few floors, books, pet food, hardware, lumber, and other items as you keep going up.
Getting Around
During the middle of the day, the subway and JR trains are the best only sure way of arriving on time. Traffic in Tokyo is heavy and unpredictable. The trains are frequent and punctual. Use the travel planner at www.businessinsightjapan.com to compute itineraries and fares for day trips.
Where to Stay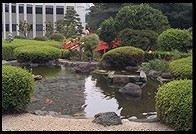 Quite a few hotels in Tokyo have in-room Ethernet access to the Internet. Expensive, isolated amidst the concrete towers of West Shinjuku, and free of character, the executive floors at the Tokyo Hilton nonetheless have a no-excuses T1 line out the back. Check hilton.com for more info. The most lively part of the city is Shibuya, which has a bunch of hotels, some with in-room Internet. The New Otani Hotel is a dreadful 60s concrete tower built around a lovely 400-year-old stroll garden with waterfalls and beautiful koi. Prices and service standards are high. Photo.net readers report that the rooms include 10base-T jacks for high-speed Internet connectivity.
---
philg@mit.edu