Government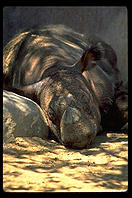 The California State Assembly passed a bill saluting Yellowstone National Park as one of the state's major tourist attractions. Legislation was withdrawn when it was pointed out that the park is not in California. In fact, it spans the states of Montana, Idaho, and Wyoming.

The Federal Highway Administration proposed a special waiver program to accomodate the disabled in which truck drivers could be blind in one eye and have weak vision in the other eye.

In Iowa, a woman accused of shoplifting a $25 sweater had her $18,000 car--specially equipped for her handicapped daughter--seized as the "getaway vehicle."

Under asset forfeiture law, the Justice Department confiscated the home of an elderly Cuban-American couple in Miami. The husband had been convicted for playing host to a weekly card game for family and friends.

The narcotics unit in Marin County, California, used $227,000 that it had received from the federal government as its share of confiscated property to settle a lawsuit from a policewoman on the local antidrug unit who claimed that two policemen in the unit sexually harassed her. After the controversy over the use of seized money was made public, U.S. Attorney Michael Yamaguchi in San Francisco defended the asset forfeiture program: "It's a very successful program. It has lots and lots of money."
---
On January 12, 1991, Denise Perrigo called a local community volunteer center to ask a question about breast-feeding, checking to see if it was unusual for a mother to become aroused while breast-feeding her child. (Perigo's daughter, Cherilyn, was three years old at the time.) The local community volunteer service referred her to a rape crisis center, where the volunteer she talked to assumed that Perrigo was sexually abusing her daughter. The center phoned the police, who raided Perrigo's house, arrested and jailed her, and gave her daughter to social workers from the Onondaga County Department of Social Services in Syracuse, New York.

Perrigo was interrogated for five hours by the police. She later said that one of the policemen accused her of "having my daughter perform oral sex on me." Perrigo was formally accused of sexual abuse, including "acts of sexual conduct including mouth-to-breast contact." The term breast-feeding was never used.

Perrigo's case went before a local judge the following Monday morning, and the judge threw all charges against her out of court.

But rather than give Cherilyn back to her mother, the Department of Social Services immediately filed another set of charges. The daughter was placed in a foster home. The social workers effectively claimed that Perrigo was a pervert because she was still breast-feeding her three-year-old daughter. Yet, as Dr. Ruth Lawrence, a University of Rochester pediatrician and one of the nation's foremost authorities on breast-feeding, notes, the international average length of nursing is 4.2 years. (One policeman reportedly lectured Perrigo on the night of her arrest that it was "physically impossible to nurse after eighteen months," so she must be nursing for her own gratification.)

The case against Perrigo was heard by a local family court judge three months later--and once again all the charges were thrown out of court.

Yet Cherilyn was kept in foster care, and social workers permitted Perrigo to see her daughter only two hours once every two weeks.

In the following months, Cherilyn was interrogated by social workers and psychologists more than thirty times. Five months later, family court judge Edward McLaughlin again dismissed all charges.
---
First the amateur whores take your husband.... then the professional whores take your car. Fortunately, the Supreme Court says that this is justice:


================================================================
BENNIS v. MICHIGAN
Docket 94-8729 -- Decided March 4, 1996
================================================================

Petitioner was a joint owner, with her husband, of an automobile
in which her husband engaged in sexual activity with a
prostitute. In declaring the automobile forfeit as a public
nuisance under Michigan's statutory abatement scheme, the trial
court permitted no offset for petitioner's interest,
notwithstanding her lack of knowledge of her husband's activity.
The Michigan Court of Appeals reversed, but was in turn reversed
by the State Supreme Court, which concluded, inter alia, that
Michigan's failure to provide an innocent owner defense was
without federal constitutional consequence under this Court's
decisions.

Held:

The forfeiture order did not offend the Due Process Clause of
the Fourteenth Amendment or the Takings Clause of the Fifth
Amendment. Pp. 4-12.

(a) Michigan's abatement scheme has not deprived petitioner of
her interest in the forfeited car without due process. Her claim
that she was entitled to contest the abatement by showing that
she did not know that her husband would use the car to violate
state law is defeated by a long and unbroken line of cases in
which this Court has held that an owner's interest in property
may be forfeited by reason of the use to which the property is
put even though the owner did not know that it was to be put to
such use. See, e.g., Van Oster v. Kansas, 272 U.S. 465, 467-468,
and Calero-Toledo v. Pearson Yacht Leasing Co., 416 U.S. 663,
668, 683; Foucha v. Louisiana, 504 U.S. 71, 80, and Austin v.
United States, 509 U.S. ___, ___, distinguished. These cases are
too firmly fixed in the country's punitive and remedial
jurisprudence to be now displaced. Cf. J. W. Goldsmith, Jr.-
Grant Co. v. United States, 254 U.S. 505, 511. Pp. 4-11.

(b) Michigan's abatement scheme has not taken petitioner's
property for public use without compensation. Because the
forfeiture proceeding did not violate the Fourteenth Amendment,
her property in the automobile was transferred by virtue of that
proceeding to the State. The government may not be required to
compensate an owner for property which it has already lawfully
acquired under the exercise of governmental authority other than
the power of eminent domain. See, e.g., United States v. Fuller,
409 U.S. 488, 492. P. 11. 

447 Mich. 719, 527 N.W.2d 483, affirmed.

Rehnquist, C. J., delivered the opinion of the Court, in which
O'Connor, Scalia, Thomas, and Ginsburg, JJ., joined. Thomas, J.,
and Ginsburg, J., filed concurring opinions. Stevens, J., filed
a dissenting opinion, in which Souter and Breyer, JJ., joined.
Kennedy, J., filed a dissenting opinion.


---
Maybe it is time to return to Heather Has Two Mommies
---
MIT Center for Political Correctness, room NE43-414 / 545 Technology Square / Cambridge, MA 02139 USA / (617) 253-8574
Reader's Comments
I detect some reservations about the wisdom (fairness?) of the Michigan case forfeiting a wife's interest in the auto that her husband used to bag a prostitute. Great good comes with a price. I am confident that when you realize the good that flowed from this decision you will realize that it was well worth the small price paid by an innocent person. As a resident of Michigan, perhaps I will be best able to set the record straight. "Johns" who previously only faced AIDS, sundry other STDs, jail, fines, and loss of reputation suddenly faced loss of wheels. Faced with this terror, cruising for sex was just too risky. As word of the new terror spread, "Johns" abandoned the auto in favor of the bicycle (much cheaper to replace). There was a downside. Back injuries were up a whopping 300 percent. Did you ever try to have sex in the back seat of a bicycle? When this reality hit home -- prostitution ended. For several months after the watershed (or was the waterbed?) decision, gaunt, starving hookers staggered across the state line into Ohio and Indiana. They had to seek a new beginning where hopefully they would be able to get back off their feet and regain income and dignity. Michigan now has the only prostitute free state in the nation. We are optimistic that the Department of Agriculture will shortly issue that coveted "Prostitute Free Zone" certification (not to be confused with "free prostitutes zone") which we will proudly display on all of the now empty street corners. Why would the Department of Agriculture be responsible for this certification? We're talking government here, there doesn't have to be a reason.

Al McCallum -- admccallum@columnist.com

Thoughts, Ramblings and Observations: http://www.admccallum.com

-- Albert D. McCallum, January 20, 1998
Two lessons from the Perrigo story:

- when arrested by the police and taken in for interrogation, don't say a god damned word.

- never seek out or take advice on anything even remotely important from unknown sources.

J. Hinsdale

-- John Hinsdale, September 7, 2001
Add a comment | Add a link