Site Home : Materialism : One Article

---
The 2011 Sienna has arrived. My friend David, owner of a 2003 Honda Odyssey, and I test-drove one. The Sienna shares many attributes with the original 1983 Dodge Caravan: seats a lot of people, holds a lot of stuff, doesn't burn too much gas, won't win any prizes for handling. The EPA Web site goes back only to 1985, when the Caravan with a manual transmission and "shift up" light was rated at 21 mpg city/26 mpg highway. Given 25 years of progress and Toyota's legendary engineering talent, how does the 2011 Sienna compare? With the four cylinder engine, it gets 19 mpg in the city/26 mpg highway.

[If you'd like to skip to the conclusion... both David and I purchased 2011 Honda Odysseys.]
Sitting in the 2011 Sienna
The front seats are comfortable and there is more than enough legroom for a 6' tall driver. The rear seats are fairly easy to stow in the floor. The middle seats vary depending on the version.

The Sienna comes in 7-seat and 8-seat versions. The 7-seat version has two reclining bucket seats in the middle, each with a pop-out footrest. It could be a very relaxing way to travel, but an adult would not have adequate legroom to use the footrest unless the front seat were moved all the way forward. Unlike the Honda Odyssey, the 7-seat version does not allow the right middle seat to be moved into the center of the car. So a mom driving with a baby in the middle cannot move the kid within arm's reach.

How about the 8-seat version? The 8th seat is comically small and yoked to the left middle seat. It is actually too small to hold a standard child seat and lacks the LATCH attachment system. Securing a child seat in the 8th seat using a seat belt is awkward. You can't move the baby forward without moving the left middle seat so far forward that there is almost no legroom. And then if you want to have anyone be able to get in and out of the rearmost seats the right middle seat also needs to move really far forward. The salesman said "This really isn't the best seating option."

Neither seating configuration seemed suitable for a family with an infant.

[The 2011 Odyssey EX and higher trim levels have a much better design. The middle-middle seat comes forward independently of the outboard seats. It is easy to attach a child seat via LATCH anchors and, from the front seat, very easy to reach an infant strapped in thusly.]
Starting up the 2011 Sienna
We got into the $36,000 car and... had to turn a physical key. My 2007 Infiniti M sedan came with an "intelligent key" that stays in the driver's pocket, a significant convenience when trying to open doors while carrying packages or trying to drive without dropping things out of one's pocket. Toyota supposedly does offer this feature, but only on Siennas that cost more than $40,000.
Driving
David drove first. He found the steering remarkably sloppy compared to his 7-year-old Honda minivan. It was possible to corner aggressively, but the body leaned excessively. A few active suspension components would be a big help here, electronically lifting up the body during cornering or braking. For a car that handles so ponderously, the car was poorly isolated from small bumps in the Massachusetts pavement. We were continuously jostled. The suspension handled bigger bumps well, though.

Dashboard ergonomics are terrible. Nearly all of the space in front of the driver is wasted with a big tachometer and an enormous speedometer. When was the last time a minivan driver worried about whether the engine was spinning 1800 or 2500 rpm? This area is where you'd expect a large LCD display showing a moving map, the backup video camera image, and other information pertinent to the task at hand. The backup camera image, however, shows up on a tiny LCD screen at the top center of the dash.

The stereo system takes up a huge amount of space and is not any kind of physical standard. You would never be able to fit any aftermarket electronics into the dashboard.
Uncommanded Acceleration
The car that I drove over to the dealer was a Nissan and has the feature that if the engine control computer sees both the brake and accelerator pressed at the same time, it rolls the throttle back to idle. Nissan shares this IF/THEN statement in its engine control logic with a lot of other car manufacturers, but Toyota is not among them. Toyota's programmers were too busy dealing with the hundreds of possible configurations of the car (see below) to put in this fundamental safety feature, which is why mechanically stuck accelerator pedals in Toyotas have resulted in accidents and deaths.
Navigation
The navigation system is so breathtakingly expensive that the dealer, in one of the wealthiest areas of the United States, had ordered very few Siennas with nav. In fact, he had none on the lot to show us (not because any had been sold this way, but because none had arrived yet). Why you should have to pay $36,000 for a car and then need to stick a $120 Garmin GPS or mobile phone on the dashboard in order to navigate is something that you'll have to ask the Toyota marketing and engineering staff to figure out. David already has a Toyota navigation system in his Lexus and does not like it well enough to pay for an optional navigation system that is in any way similar.

The navigation stores its database on a physically huge mechanical DVD drive, though the same information would easily fit on a $10 digital camera memory card. Updates to the database will cost about $150 each, i.e., more than a brand-new Garmin or TomTom GPS with a current database. Unlike a solid-state card, the mechanical DVD drive is sure to fail eventually, probably after the car's three-year warranty expires. Note that a Motorola DROID phone
and car dock
will offer superior software, traffic jam information, and a continuously updated point of interest database, all for free if you're already using it as a mobile phone.
Bluetooth Speakerphone
A Bluetooth headset at Amazon
costs about $22. A Bluetooth speakerphone for the car is closer to $45. The same capability from Toyota... we don't know. It was so expensive that none of the cars at the dealer we visited had it. Our dealer had Siennas that topped out at just over $40,000 including Massachusetts sales tax.
Design
The exterior looks... like a minivan. Not a whole lot else to say. The interior of the LE model is marred by huge swaths of smooth plastic stretched across the dashboard. The XLE model has some attractive wood veneer on the dashboard. Both models look as though Toyota couldn't figure out what to do with some of the space.
Night Driving
To get HID headlamps, you need to get the XLE Limited, the highest of the five trim levels, and then pay extra for an HID option. Mazda gives you HID headlamps in their minivan at the $24,000 "grand touring" trim level.
Middle Seat DVD/Entertainment
As part of a $6,000 option package, the middle seat passengers can enjoy watching a wide-screen TV that flips down from the ceiling. Fans of mid-1990s technology will appreciate that the system can play DVDs. What if you started collecting Blu-ray discs in 2006? Your brand new fully optioned $45,000 2011 Sienna won't play them. David did not like the fact that the flip-down screen blocks a lot of visibility out the rear window. One nice feature is that the headphones are wireless.
All-wheel Drive and Snow
One area where Toyota distinguishes itself from the competition is in offering an all-wheel drive minivan. David, however, wasn't going to order this expensive and gas-consuming option. "My front-wheel drive Odyssey is great in the snow, better than my AWD Lexus and better than friends' SUVs. I just use the factory all-season tires." Certainly minivans are very heavy and there is a lot of weight on the front wheels. My 1998 Sienna only got stuck in the snow once, when I tried to get out of a friend's unplowed driveway that was covered in 10" of powder. It seemed like a good idea at the time.
Cost
With two-wheel drive, a 2011 Sienna with the equipment that you'd expect a minivan to have, e.g., navigation, speakerphone, and entertainment for the rugrats in the back, will cost $40,000 plus $800 for delivery and $2,000-4,000 for sales tax, depending on the state (no gleeful comments from folks in New Hampshire please).
Comparison to 1998 Sienna
As someone who owned a 1998 Sienna, two generations prior to the 2011 model, and drove it for nine years, let me offer a comparison between the cars. The driving experience is very similar. The interior design of the 1998 LE was more tasteful. The climate controls are almost identical, with neither minivan having a settable goal temperature. The 1998 LE offered a superior middle seat for positioning an infant car seat. The 2011 offers a superior system for storing the rear seats when not in use.

What is most remarkable is how little Toyota has managed to improve in 13 years.
Compared to the Honda Odyssey
The Honda Odyssey was redesigned for 2011. If a seven-year-old Odyssey had no trouble beating a brand-new Sienna, the latest revision to the Odyssey should also be more nimble. As a price for that better handling and road-feel, Honda has typically inflicted more interior noise on the passengers. The latest Odysseys have tamed this with electronic noise-canceling from the stereo system speakers and this is also true of the 2011 model.

Honda has simplified its design and manufacturing challenge by offering only four basic configurations of the Odyssey. There are virtually no options other than to choose from among the four levels.

Honda does not offer all-wheel drive.

As noted above, after driving both the Sienna and the Odyssey, both David and I chose to purchase Odysseys. I have published a separate review of the Honda Odyssey.
Compared to the Mazda5
If you can live with a slightly smaller and noisier car, seating six people, the Mazda5 will do everything that the Sienna does for about two-thirds the price. The car enthusiast magazines love the handling of the Mazda5. It is the highest rated "wagon" in Consumer Reports with a score of 95, higher than either the Sienna or Odyssey. The main drawback noted by CR was interior noise (Mazda should copy Honda's electronic noise canceling system).
Compared to the Chrysler Minivans
Depending on whether or not the U.S. government continues to pour taxpayer money into Chrysler, it may be possible to pick up a Town and Country or Dodge Caravan at a good price. These minivans offer superior flexibility when converting from seating passengers to carrying cargo because the middle row seats can stow in the floor. In other respects they are very similar to the Honda and Toyota minivans, albeit a little less refined.

One argument in favor of the Chrysler is that, if you're a U.S. taxpayer, you already paid for at least half of a Town and Country so you might as well buy the rest.
Compared to a Winnebago Motorhome
For about $50,000, i.e., just slightly more than the top-of-the-line Sienna, you can get a brand-new 24' Winnebago motorhome that sleeps four people, sits four down at a dinner table, includes a full kitchen and bathroom, some storage cabinets, and... a 32" LCD TV. Why does it cost nearly $50,000 to get a minivan with navigation and a TV in the middle?
Compared to a three-year-old minivan
Minivans depreciate very rapidly. All minivans function very similarly. If you don't have an extra $30,000 to spend casually, it is easy to buy a three-year-old minivan for about $10,000, especially if you're willing to accept Chrysler, Ford, GM, or Hyundai/Kia. If you're buying the minivan to transport kids and dogs, even the fanciest minivan won't look and smell new for that long. A three-year-old minivan should have plenty of life in it. I could probably have driven my 1998 Toyota Sienna for another nine years if I didn't mind it looking rather shabby from being left out in the elements.
Suggestion: modular navigation and entertainment
The median age of a registered car in the U.S. is 9 years. That means there are plenty of 15-year-old cars on the road. The navigation and entertainment systems are essentially computers. Would you want to use a 15-year-old computer? If not, would you want to spend $45,000 to replace that computer and scrap 4,000 lbs. of metal, plastic, and rubber during your computer upgrade?

In 2026, a 2011 Sienna will likely still be on the road. By then the average mobile phone will offer a choice of any movie or TV ever produced, streamed directly to the handset with full HDTV quality (in case you want to hook up the phone to a TV). But the Sienna driver will still be lugging around a mechanical DVD player, by then about as useful as a 8-track tape player is today.

Toyota and the other car manufacturers should define a standard for plugging computers into the car. Bring a GPS antenna connection, power, audio connections, and some status signals to the back of an empty bay and drop a 9-inch touchscreen computer into the bay. Every five years, the consumer can throw out the obsolete machine in the bay and install a modern computer at a cost of $200 or $300. A $300 Dell notebook computer already offers vastly superior capabilities for navigation and entertainment than the $6000 Toyota package; imagine what a $300 computer will be able to do in 2026.
What does Consumer Reports Say?
Consumer Reports says that the Sienna is good, but the Honda Odyssey is better.
Conclusion
The 2011 Sienna was designed in California and Michigan and is built in Kentucky (source). There is virtually nothing Japanese about the car and the result is a vehicle that could well have been built by General Motors. Considering the different levels of trim and options, there are probably at least 200 possible configurations of Sienna. That's so many that nobody at Toyota was able to notice that they are all pretty bad. The Honda Odyssey is a substantially better car and better value.

Suggestion: If the Sienna came in one only model, with a fixed set of equipment, the engineers and designers would have a lot more time to do a good job with that one configuration.
Background: Why a Minivan? And why do they rattle so much?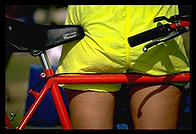 Why a minivan? Once you buy one, you can never go back to a plain old car. It is a luxury to have enough space to carry friends, photo gear, a dog, and a bicycle. All at the same time.
I joined the minivan club in 1993 when I bought a Dodge Grand Caravan to drive to Alaska and back. I loved the design of the car and the capabilities afforded by having so much space, but the car's interior contained the seeds of its own destruction.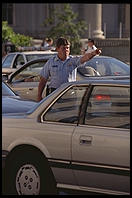 When we were kids growing up in Washington, D.C., we had a 1970 Chevy station wagon. It was dark green on the outside ("to match the hedges" -- Mom) and black vinyl on the inside. We had no air conditioning. We lived in Washington, D.C.. While riding around inside this inferno, you were either looking at black vinyl upholstery or shiny green-painted metal. The interior of the car, where not upholstered, was exactly like the exterior. I don't remember thinking it was especially ugly and it certainly did not rattle.
Sometime in the 1980s car manufacturers decided that no American should be forced to look at sheet metal while sitting inside an automobile. So they molded car-sized pieces of plastic and stuck them to the metal on the insides of the car. This reduced interior volume by about half an inch all around but otherwise didn't seem to make much difference.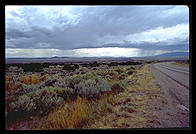 Think about a minivan that is four years old, though, and has 55,000 miles on it. It has been subject to cold winters in Boston and hot summers in Los Alamos, New Mexico. Essentially a big empty box, it has very little torsional rigidity. So all of the plastic on the interior is subjected to twisting forces as the car pounds over potholes. Meanwhile it is being alternately heated up or frozen.
The result? All of the plastic pieces in the interior of my Caravan were cracked and rattling. It was sufficiently annoying that I decided to run a Web contest to give the Caravan away to charity. I then started to feel guilty about giving the folks at the no-kill animal shelter my rattling car. It was still under warranty and basically sound mechanically, but I didn't want them to realize that I was only giving them the car because it got on my nerves.
I went to a local dealer and said "stick all the plastic pieces back to the metal and order some new ones if you have to; keep doing it until the car stops rattling." It cost about $1300 in 1998 (today that would probably be closer to $3000 in parts and service).
I replaced the Caravan with a 1998 Toyota Sienna. The total cost was $27,000, including taxes.
1998 Sienna: How did it drive?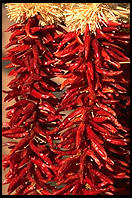 The 1998 Sienna handled like the modern Camry on which it was based and was more nimble than my old Caravan. The front seats were fine for 20-minute trips, but provided little lumbar support and became uncomfortable on long highway journeys.

Being a little smaller than the Dodge Grand Caravan, the car was not as functional for transporting bicycles and I ended up getting a bike rack for the roof. The Toyota accessory bicycle holders are not up to the standard set by Thule and Yakima and eventually I had to throw them out and get a Thule rack system.
1998 Sienna: How did it hold up?
My Sienna was great for its first 8,000 miles or so. Then it started to rattle worse than the old Dodge. Support from Toyota USA was non-existent. A driver or passenger would be hard-pressed to tell the difference between a three-year-old Dodge and three-year-old Toyota.

The car burned through front tires every 20,000 miles. Had I been religious about rotation and alignment, I probably could have gotten more life out of them. The factory CD player failed so often that eventually Toyota ran out of replacements (you'd think that they'd have learned their lesson with mechanical optical disk readers and substituted solid-state memory cards, but the latest Sienna has two DVD drives, one for the navigation system and one for the middle seat TV).

Starting at about 30,000 miles, the car added to its repertoire of rattles a distressing thunking noise from the right front suspension. The thunk scared passengers and prior to warranty expiration was pronounced baffling by the dealer. Once the warranty expired, Clair Toyota said "an $800 new strut would fix that thunking noise." Toyota of Watertown ultimately diagnosed the problem as a strut mount and replaced it as part of a $1600 service visit. The child locks on the sliding doors were problematic and never properly fixed.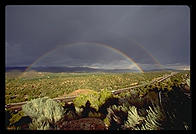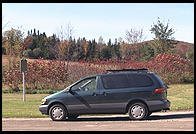 2004-2010 Sienna
Toyota redesigned the Sienna for the 2004 model year. It grew to become more or less the same size as the Chrysler long wheelbase minivans (i.e., what I had back in 1993). The weight also grew to 4400 lbs., well beyond my 1998 Sienna or my old Dodge.

The 2004 Sienna copied the roll-down middle seat windows that were pioneered in the Mazda MPV (they are now standard in all brands of minivan). The middle row seats could be pushed together so that an infant rode in the middle or so that a big dog could lie down across two seats. Toyota made rear-window sunshades available in their fancier trim lines.
More
---
Text and images copyright 1998-2010 Philip Greenspun.
---
philg@mit.edu
Reader's Comments
We bought our Toyota Sienna Van in July 1998 and have had problems with the locks on both of the sliding doors and the driver's side door. It is not due to child proof locks; the button you push to open the doors stays pushed in, does not pop back out and the doors cannot be opened from the inside or the outside. This is quite dangerous when you have four children who all sit in the back. They have had to climb over the seats to get out. The driver's door will not lock unless you use your key. The dealer has been no help. Has anyone else experienced this problem?

-- Heather Dew, September 6, 1999
We havw a 1999 Toyota Sienna. At 25,000 miles the engine failed due to sludge. Toyota has failed to back their warranty in one of the most horrendous displays of customer service I have ever seen. We are currently in arbitration to have them give us our money back. I would not reccommend that anyone buy a Toyota product. There are problems with their engine warning system designs and they do not back their products. With only a brief search I have found two other siennas that have the same exact problem. Below is our story if you are interested. Please let me know if your toyota has had a similar problem.

Complaint Station for Toyota 1999 Sienna Engine Fails Due to Sludge. Toyota Won't Honor Warranty. From: Steve Weiss Emailid: weiss10@prodigy.net This letter is in regards to our 1999 Toyota Sienna. This will also summarize a basic chronology. We are requesting any assistance you can give to help Toyota bring a rapid resolution to our case.

December 4, 1998: The vehicle was purchased new.

February 8, 1999: Oil and filter change. May 15, 1999: Texaco Express Lube oil and filter change. November 10, 1999: American Lube Fast oil filter change. April 24, 2000: Tire and Lube Express oil and filter change.

During the first week of May I noticed white smoke coming from the exhaust during cold start-ups. I then called Toyota Service Dept. and made an appointment for May 11 @ 2:45.

On May 11, 2000, my wife called Toyota to see how long the repair would take. They explained that it was faulty valve stem seals that were leaking onto the exhaust and the repair would take an entire day to complete. Due to illness in our family we could not leave it for an entire day. We then explained that we were leaving to go to Florida on May 13, and we would need to get the vehicle repaired prior to that time or drive a different vehicle. They said that the vehicle would be safe to drive to Florida and back and upon our return we should bring in it for service. He made no other recommendations as to any special instructions on vehicle operation. We then asked him twice if he was positive that the car was safe to drive on such a long trip. They confirmed that it would be fine.

On May 13, 2000, prior to leaving on vacation, all the fluids were checked and full. As a side note, the vehicle had only burned ˝ quart of oil total in the previous 12 months. The car was driven to Florida and had approximately 20 hours of engine run time prior to leaving Sarasota.

On May 21, 2000, prior to leaving Sarasota, Florida to drive to Atlanta I checked the fluid levels for the return trip and found the oil to be 4 ˝ quarts low. I purchased oil and put it in the engine. At no time while this car was 4 ˝ quarts low on oil were there any warnings or indications that there was a problem. There was no oil warning light, no engine warning light and the vehicles temperature gauge was in the normal mid-range as it always is. We then started to drive and after one hour of driving then checked the oil and found it to be ˝ quart low. We drove to Jacksonville, Fl which is another 2 hours and found that it had burned an additional 1 ˝ quarts of oil. We stopped in Jacksonville overnight, because it was obvious to me that whatever the problem was, was now getting worse and needed to be looked at prior to continuing.

On May 22, 2000, at 7:30 AM I brought the vehicle into a Toyota service department. I spoke with the service Rep and he said that the engine was full of sludge and did not have proper oil changes done which caused the sludge. He also went on to say that Toyota would not honor the vehicles warranty because it did not cover sludge in the engine. I was later informed that the oil pump was also full of sludge and that the engine would need to be replaced. I then spoke with the service manager who explained that once sludge is found in an engine, Toyota automatically assumes customer liability and voids that warranty. He then said it was out of his hands and Toyota Corporate would have to make a determination. At no time did anyone in the service dept. or customer service do anything to try to locate the cause of the problem with the vehicle. For example, another service rep said that the valve stem seals were leaking, or that the vehicles warning system was not functioning properly. There also could have been contamination in the oil. It was only assumed, as stated to me, that improper oil changes are the only cause of sludge and that it was my problem.

I was directed to have Toyota take a sludge free oil sample to be sent into Oil Analyzers Inc., an oil-testing laboratory, to be analyzed to help determine the cause of the sludge and the condition of the oil in the vehicle. Later that day I called Toyota Corporate Customer Service and spoke with Ernest Henderson to register a complaint that Toyota was not honoring their warranty. Mr. Henderson called to have an Area Rep come out to inspect the vehicle.

On May 26, 2000, the Area Rep inspected the vehicle and denied warranty coverage for improper oil changes. I then called the General Manager to register my complaint with Toyota. He then spoke with the Area Rep who said that a final determination would be made on Tuesday, May 30, 2000.

Documentation for the oil servicing was sent to the Toyota Service Manager, prior to the Area Rep's inspection. I have since spoken with numerous mechanics and oil specialists who have clarified that improper oil changes are not the only cause of sludge in an engine.

This leads me into an explanation of the probable causes of how sludge exists in this engine and why Toyota should honor their warranty and repair this vehicle to factory specifications. A service rep stated to me that the problem with the vehicle was leaky valve stem seals. Leaky valve stem seals allow oil to seep into the piston chambers and burn out of the exhaust as white smoke. As this problem gets worse, more and more oil continues to seep out of the engine. He was wrong in his assessment that the vehicle would be safe to drive. Further erosion of the valve stem seals eventually caused the engine to sludge.

There were no indications or warnings that there was any problem with the engine. The warning system of this vehicle provided absolutely no warning whatsoever prior to the engine becoming sludged to the extent that it needed to be replaced.

During the period of May 27 through May 30, 2000, I made numerous phone calls and sent email complaint letters.

On May 30, 2000, I received the results of the oil analysis from Oil Analyzers Inc. I then spoke with the laboratory technicians to review the results of the oil sample analysis. It was explained to me that the oil that was in the engine was contaminated with water. The Toyota service rep also commented on the viscosity of the oil sample when they took it from the vehicle and how it looked like water. In fact, according to the analysis there was .23% water contaminating the oil. This is 1 ˝ times the tolerances limit for water contamination. The oil that I put into the vehicle in Sarasota was 10W-30 and has a viscosity of 9.7 centistokes. When this oil was tested after only 3 hours of engine run time, the viscosity measured 16.2. This is an increase of over 6 centistokes and indicates that the oil was already starting to sludge due to the water contamination.

The oil degradation present in this oil sample was 40% oxidation and 35.7% nitration. These numbers indicate that this oil used up ˝ of its cooling capability. This degradation in the oil's cooling capability causes the engine and oil to get hot. Water enters the crankcase through the process of condensation when the engine is cooling. Higher engine and oil temperatures from the oil degradation caused more water contamination to enter the engine through this process of condensation

According to Oil Analyzers Inc., the spectrographic analysis of the oil shows that the sludge was not caused by bad oil, as the values tested in the normal range. However, the physical properties of this oil being percentage of water contamination and viscosity, as well as the oil degradation in oxidation and nitration, "Indicates that something is tremendously wrong with the way this engine is operating". He also went on to say that a failed PCV valve could also cause a viscosity increase leading to sludge.

On June 2, 2000, I received the following statement from Southeast Toyota Customer Loyalty Department. "We are responding to your request for an explanation of the denial of coverage for warranty repairs on your vehicle. The Toyota New Vehicle Limited Warranty provides coverage to correct defects in materials or workmanship for covered components. The failure of the engine in your vehicle was caused by sludge. It has been determined that the failure to the engine in your vehicle was not the result of a defect in the materials or workmanship".

We believe that the problems with this engine are a direct result of defects in the materials, workmanship, and design of the Sienna's engine. We are absolutely amazed that the warning system of our vehicle did not even provide the slightest indication that we had a catastrophic problem with our engine.

Our case is currently in Arbitration with the National Center for Dispute Settlements.



-- Steve Weiss, June 16, 2000
I have a '99 Toyota Sienna, 30,000 miles now, I have had the door lock problem; the sliding door locks get stuck in, the sliding doors constantly get stuck (I am told by the dealer that this is due to spillage, however this is just a ploy...); I have complained NUMEROUS times about vibration and pulling to the right,Toyota has replaced the brake drums under warranty, this did not help the vibration; they sited defective tires, I now have the third set of tires on this van; I still have the vibration. The dealers and the Southeast Toyota regional office has been no help with this as a matter of fact they are very defensive about it. I now have paperwork to send to the National Center for dispute settlement. I cannot believe that Toyota will not stand by their advertised "Customer Satisfacion" advertisement. I need all the documentation I can find to take to this arbitration. Please e-mail any and all complaints that you may have to JColeman@vieler.com. I want this van recalled and the problems repaired. Don't you?

-- Judy Coleman, August 13, 2000
I leased a 2000 Sienna, and had no problems the first 18000 miles. At about 19000 miles, after three oil changes during this time, I began to blow smoke out of the tail pipe. Took it into Toyota dealership, and was told I have "sludge", as a result of a lack of maintanance. I explained my three oil changes, with receipts for two (I changed it once), and was told "the receipts mean nothing to me". Called 800 number in California, they supported their dealer. Was told I will have to pay at least $2500 to have my engine rebuilt. Is this a problem with the design of the engine, or the mileage suggested by Toyota (every 7500 miles based on my driving)between oil changes. I do not like being called a liar by Toyota, and expect them to back their warranty. Am planning on contacting television reporter who does investigations into this type of stuff (to keep it clean). If interested in having your name on the list of people for him to contact, please contact me at my email address.

-- Barry Drizin, March 24, 2001
Engine Sludge problem - I am facing $3,300 in repairs on my 2000 Toyota Sienna XLE van with only 17,000 miles and oil changes performed at 7,000, 10,000, and 16,000 miles. Told that it has engine sludge build up that can only be due to improper maintenance and owner neglect, that it could not have happened if oil changes occured when I indicated, and suggested that I contact the independent companies that changed my oil (implying that they really did not do an oil change). Charges are not covered under warranty. Even after repairs are complete, they may elect to not continue warranty on the engine of the vehicle. I bought a Toyota because of their record of reliability and customer service, and have found this to be a complete fallacy.

-- JJ Jackson, May 30, 2001
The Sludge Factor

We have a 1998 Toyota Sienna XLE with about 50,000 miles on it. It is our fifth Toyota. Between 1983 and 2000, all motor vehicles we purchased were Toyota products. We have an extended warranty. And an unresolved SLUDGE problem - something that has never occurred on any of the vehicles I have owned in the past forty (40!) years. It is comforting to discover that we are not alone, and that some of you sludge veterans made suggestions as to where to turn. Because we are not about to pay the $3,000 Toyota estimates it will take to dismantle and repair the engine, we are now renting a car in hopes of a resolution. Here is our saga so far:

<![if !supportEmptyParas]> <![endif]>

My wife heard loud valve clatter on the morning of May 24, 2001, and we immediately drove the vehicle to Lou Fusz Toyota, in Kirkwood, a suburb of St. Louis, MO. Mike Wolz, Assistant Service Manager, called next morning to verify that there was a problem. He found sludge in the tubing that constricted oil flow to the valves. Mike said it would be OK to drive it, although best not on a long trip. On advice of my wife's brother, a mechanic, we decided not to drive it at all.

On Tuesday May 29, I had Dobbs Auto Service, which had done most of our oil changes, print out a detailed list of service performed on the vehicle. I gave the list to Mr. Wolz, together with a table we drew up, based on receipts in our possession. These indicated that on average we had oil changes every 4 months, at approximately 4,000 mile intervals. Mr. Wolz told us that Charley Epp, regional service manager for the Kansas City region (which includes St. Louis) would be in town May 31, and that he would inspect the car and make a determination. On May 31 Mr. Wolz informed us that Mr. Epp had looked at the engine that day and determined that, because there was sludge, the vehicle must not have had frequent enough oil changes. He was shown the record of our oil changes, but nevertheless determined that Toyota had no responsibility in the matter.

I then asked to speak to Mr. Epp, but was told that he had already left the premises. I spoke to the Customer Relations Manager at Fusz Toyota, Mr. Tom Coats, who said there was nothing he could do in the matter. I asked him what the next step would be for a complaint, and he said I could request an "arbitration package" from the national customer service office, at 800-331-4331.

I phoned that number and spoke to Bob Squibb, a customer service representative. He said that normally he advised taking three steps before resorting to arbitration, but that evidently I had taken all three already. (These included speaking to customer relations at the dealer and having a regional representative come out to inspect the vehicle.) He initiated an application for an arbitration package to be sent to me within 2 weeks. He told me that Toyota will settle the claim within 40 days of receipt of the completed forms.

Sweet of them. I hope we can do better. I will look carefully at what has been written on the topic in this forum, but any further advice would be greatly welcome.



-- Robert Gordon, June 2, 2001
Sludge Problem here too! I can't believe this! My 2000 Sienna XLE is only 18 months old and only has 14,000 miles on it!! and I just discovered the sludge in my engine at my latest regular maintenance oil change at Pro Care in Middletown, Ohio. I have an appointment with the closest Toyota dealer (45 minute one way drive!) on Monday to "inspect my car" and "determine the course of action" but they have already accused me of neglect and informed me that my Warranty is now void despite having proof of oil changes!

I wish I had a Toyota dealership in my town that I could have conveniently gone to for Oil changes - I wonder if they would accuse their own staff of not *really* changing the oil!!

As soon as I began to describe my problem to the dealership service person, I was instantly accused of wrongdoing and commanded to call a National 800#. I was assigned an investigative case# by the national folks and instructed to call the dealer again and give the case# in order to obtain an appointment for the INSPECTION. They definitely KNOW there is a problem and they have already been trained on how to treat the poor customers!

I am so shocked because I thought Toyota was famous for it's great customer service, it was one of the reasons I bought a Sienna (We have a 98 Camry which has never had any problems at all!) I can't believe that anyone would think that this is the right way to treat customers who spent a lot of money on what they thought was a really nice Van and have done nothing wrong! Shame on you Toyota. I am going to join in the fight and hope that some agency somewhere can force Toyota to stand by their warranty and do the right thing. Thank Goodness my local mechanic had heard about the sludge that has been turning up in Siennas and that Toyota was not standing behind their warranty and he was able to warn me to watch out or I would never have thought to go online and search for information on it. Megan Trent (megtrent@one.net)

-- Megan Trent, June 20, 2001
I own a 1998 Sienna. I guess the good news is that this is a "pre-sludge" era Toyota - but the sliding door button jamming is a serious safety problem and a major pain in the backside. It used to happen only once a month or so - now every day. These buttons get stuck in - if it happens when the door is open, it often cannot be closed! (which means you cannot go anywhere for the 5-20 minutes it takes for this button to pop out on its own). If it happens when the door is closed, it cannot be opened from the inside or outside, meaning passengers have to climb up and over to get out! I love the head and legroom; but I have a terrible rattle in the right sliding door, the rear seat belts lock up easily on anyone bigger than a small women, and I had to replace my tires at 30K miles due to mis-alignment wear. I'm terribly disappointed in Toyota.

-- Barb Karlin, June 20, 2001
I too have had problems such as the sliding door button stuck inside, air leak on the driver side, etc. with our 1998 Sienna minivan. The Toyota service people/dealers happen to be quite rude and un- professional and look for ways of either blaming the customer or denying that the problem exists. (Any SOLUTION for the sliding door button?)

Once the warranty period on my Sienna expired, the Toyota people had no problem in acknowledging (or diagnosing) the very problems they had denied earlier, but this time asking for money to correct them. Very cheap and unprofessional.

We purchased a 2000 Honda CR/V last year and have so far (after 26,000 miles) been happy with the quality of product and service (the only service we needed has been regular oil change vs many trips to the Toyota dealer for defect/problems with our Sienna).

-- H Saiedian, July 11, 2001
Whew! This is unbelievable. I have a 1999 Sienna with the sludge problem and I thought I was the only one having to deal with this mess. Thanks to google I found you all. I just got diagnosed on Friday at Seeger Toyota here in St. Louis. I filed a complaint with Toyota. My assigned ID is 2001090500009. Of course I was told it was my fault so I have been running around trying to get my oil change receipts in order from Dobbs and Jiffy Lube. Like an idiot, I thought if I just show them the facts they will fix my problem under warrenty. I am not sure how to proceed exactly at this point but I will go as far as I can in arbitration and make those government phone calls.

By the way, I too had the driver side passenger sticky door problem and they told me it was my fault as well.

So much for Toyota quality.

-- Stephen Mandel, September 5, 2001
Purchased our 1998 Toyota Sienna in 1998 after giving up on a $4000 discount on a Chrysler where my sister -in - law works. Fo rthe last year or so the ABS light and the tire sensor seems to stay on all the time. I was told by the Toyata Service shop that I need to replace the ABS system which is sticking. price @ $2000! No way. Let me know if you have a smilar issue!

-- John Brown, September 5, 2001
I have a 1999 Toyota Sienna XLE that has had chronic problems with the automatic sliding door. When the door is open, it will not close when the automatic door button is pushed. Instead, it makes a clicking sound and barely moves. Sometimes when it does close, it does not latch, so the car thinks the door is open and will not drive. The dealer claims it's my fault -- says I must have yanked on it, but the only way I've ever operated the door is by the button. The dealer says Toyota won't cover it under the warranty anymore. Has anyone else had problems with an automatic sliding door? The manual sliding door is difficult to open despite the dealer's attempts to repair it. Something squeaks and rattles in the dashboard.

-- Sara Spero, September 30, 2001
I would like to add my own sludge problems to this site! I had to have my engine rebuilt as well at 42000 miles on March 21, 2001. What prompted me to check it was the oil light was going on and off. When i checked the oil level, it was pretty close to empty. When I checked under the cap, the sludge was built up quite a bit. I had changes at an average of every 6000 miles. The last oil change before the engine was rebuilt was around 10000 miles. Since the rebuild, i changed it after 4000 miles and 6000 miles and the buildup is starting again. I have not taken any action in arbitration at this point, but after I see it is happening a gain I decided to research a little and now I see this is a popular problem...and VERY costly! What can I do to join in on getting this settled at this point?

Regards:

Greg Friedman

-- Greg Friedman, October 19, 2001
Add me to the list of sludged Sienna owners. The purchase of this vehicle was, by far, the biggest investment my family has made and is also the only new vehicle we have ever purchased. With our previous vehicles, I had fallen into the habit of changing the motor oil every 3,000. I had intended to do the same with our new baby. But behold the manufacture's manual which stated that our driving conditions merited an oil change every 7,500 miles. Wow!!! I'm thinking that these Toyota with their well respected reputation and superior engineering are so well-built that oil changes are unnecessary until 7,500 miles. It made perfect sense to us. That's why we are paying a premium to drive such a superb vehicle. Boy, we were in for a shock.

At about 28k miles a little light blue smoke starting coming out of the tailpipe. This occurred just as the weather was starting to turn cool. Of course I'm thinking its because of the cool weather. It only worsened. As you might have surmised, I am now facing an estimated $4000 to have the engine de-sludged. Toyota has performed three of my oil changes, and I performed one myself. After I was told about the sludge and that it was my fault because I neglected to properly maintain my vehicle I was overcome with guilt. I began to think that maybe Toyota's are great vehicle so long as you change the oil every 3k miles like clockwork. BUT WHAT ABOUT THE OWNER'S MANUAL. I didn't have a chance because I was following it. If you can't trust the group the builds the vehicles, who can you trust. Now I feel duped.

Luckily, I have discovered that I am not alone. Tomorrow I will begin contacting some of the agencies I have heard about. Saturday, I am going to talk with someone in Toyota's public relations department about my vehicle. I want to be counted among the others who are having problems with their Siennas.

We loved our Sienna. It pains me to wake up every morning and see it sitting out front collecting dust. We have not driven it since we returned from the service department. Actually, it was cheaper in the short term to go out and purchase a used vehicle that we now using while we try to figure out what we are going to do. Honestly, if we had the money, we would have paid on the spot to have the vehicle de-sludged and I would have never known that I am not alone.

-JM

-- Jim Minolta, November 23, 2001
My story: bought a new '98 Sienna in 12/97 (5 months after I bought a new T100... I really was/am a Toyota fan!). My wife put 16K miles on it the first year, and then only about 6K each of the next two years because she decided to stop working after our second child was born. Last December, with about 28K miles, there were a few things bothering us so we brought it in before the warranty ran out. You know, the usual as many have noted above: the doors rattling (they couldn't find anything), the sliding door not operating correctly (they replaced a cable), the dash rattling (they didn't even try on that one), and a puff of white-ish smoke about 30% of the time upon startup. I also had them do the 30K mile service to the tune of a few hundred dollars. They did the service, replace the cable, and were ready to hand it back to me. I asked them about the puff of smoke and they said they did not observe it at all. I asked them to persue it. They called me a day later and asked if I was sitting down. They continued to tell me it was all my fault and they would not cover it under warranty, and they even called the regional service person and she agreed with their diagnosis. It would cost me something like $6000 to replace the entire engine. I negotiated them down to about $4000 and then told them to stick it. My wife continued to drive the car another year (5K miles up to about 33K now) until we traded it in. It was still very quiet, although it was noticeaby losing power and the puff of smoke was about 75% of the time now.

Ok, so we have some doubters of this sludge problem who like to stand on some sort of holy ground since they have not had the problem (yet!). Then, and we have a bunch of people with the problem that have somehow all managed to find this site and felt compelled to provide their story. Honestly, if I was on the other side of the fence, I would say it was a maintenance problem as well...I just know better. I have had cars and put over 150K miles with zero problems at all (other than a water pump) and have always maintained them myself. I have never been to a Jiffy Lube in my life and don't intend to start now because of this! I have never had any kind of engine failure at all, no BS. I have always attributed this success to my maintenance of the vehicle. Then this Sienna comes along and they tell me I didn't maintain it properly. Holy Cow! The bottom line is there are way too many people complaining about the same thing for it not to be a problem. I sent a message to another site about this URL, so will copy it here, too.

www.nhtsa.gov/cars/problems/complain/

I typed in Honda Accord and Ford Taurus yesterday (because there are alot of them around and I wanted a large sample) and found only one or two complaints in each of sludge. Then I go to any 1998-2000 Toyota model that is available with this same 3.0 liter engine (yes, they are all the same...Lexus ES/GS/RX300 too) and you will see many many of the same complaint. The complaints are somewhat consistent with the number of vehicles sold and sold with the V6, meaning you see more Avalon's with the complaint because all Avalon's have the engine, whereas Camry's are a little less because they have alot of 4 cylinder cars out there, etc... I am into statistics, and again, there are way too many for this NOT to be a real problem. Look at this site and tabulate the data and you'll see one of two things is true: 1. People who don't maintain their vehicles well prefer to buy Toyotas with V6 engines, or 2. There is a problem.

So what the heck are we going to do about this?

I don't believe it has anythin to do with not changing the oil. I believe as others have stated or implied that it has to do with driving habits (ie: short trips). If this is the case, it is not th owner's fault...I have a 1971 F350 that doesn't have this problem with 108K miles...that's like 3.6K miles per year on average. So I have to tell my wife not to drive the kids three blocks to school in the morning unless she is prepared to do "The Nap Route" (you know, the 7 mile route you take the 3 year old on as a last ditch effort to get her to take an early afternoon nap)? That's ridiculous.

BTW: I traded the '98 in on Friday after stewing about this for a year and trying to get my wife to buy an Odyssey. She really liked the Toyota better and since I don't drive it much I left the decision to her. Yes, we traded it in on a 2002 Sienna. I rationalized it that we got a lemon and just accepted it until my sister told me about the link I mentioned above and I poked around a bit. Now I am stewing again and I don't even have the vehicle!

As a side note: you should have seen the salesman's face when I told him the car had a bad engine, his jaw dropped, it was classic. They don't know how to handle honesty. I negotiated them down to $3500 deduction off the '98 for the engine.

I am tired of typing now and my daughter just got up so I am going to sit with her for a few minutes. Feel free to reply to me. I will be trying to contact some others on this site, too.

BTW Philip: thanks for providing this site for us to rant and rave on...beautiful dog. Our Samoyed (Sasha) died about 2 years ago at about 12 years old. We still miss her and haven't been able to get over it enough to get another yet.

-- Bill Higdon, January 1, 2002
White smoke and sludge @26,000 miles.I use Mobil 1 synthetic oil and filters,and change AT LEAST every 6000 miles.This is a 2000 Sienna. I could understand the sludge if it were my dad's corolla and had 275,000 miles.Heck,he's gone 30,000 miles between his last 3 oil changes and can't believe what I'm going through. I don't care if I put 100 yards a day on the odometer.Short,long,hard trips,who cares? 26,000 miles and the engine is worse for wear than a 30 year-old corolla with 10 times the miles? Anyone with this model year Sienna who hasn't had the problem yet? Have patience,because your turn is coming.I'm very maintenance intensive,and refuse to let anyone else touch my vehicles,so I could care less about Toyota's b.s. warranty. But,ANYTHING that gets this kind of SLUDGE in less than two years is one MAJOR piece of JUNK!!!!!

-- Perry Addison, January 18, 2002
We have always had very little problems with any of the Toyota's that we have purchased. But when we purchased a 1998 Sienna van with all of the options, we did not experience the "Oh what a feeling" quality. At about 32,000 miles the dealership informed us we needed new brakes and rotors (The Rotors were badly rusted) which did not seem right, we paid to have it fixed and continued driving our van. At about 50,000 miles are van started with a blue smoke. The blue smoke exhaust continued to get worse to the point where every time we accelerated we would leave blue smoke trail. The first time we asked our dealership about the problem they informed me that I had not maintained the vehicle correctly and needed to change the oil in a more regimented fashion. We proceeded to follow their recommendations. Several months later and three oil changes the issue remained. We even tried Motor flush before changing the oil. Then we got a Service bulletin from Toyota about the Siena engine. We contacted the Dealership about the problem again and notified them that we received a service bulletin about the oil sludge problem. The dealership repaired the problem under warranty along with the Catalytic Convertor which had lost the protection cover for $4800.00. Great news for us.

-- Ken Kirsch, February 16, 2005
My 2004 Sienna front brake pad failure at 14K too Toyota/Scion of Glendora replace the brake for free, Now at 23K need new brakes new tired I know there is something wrong with the front brakes I am looking for people has the same problem for make a big complaint.

-- Rosa Hernandez, February 17, 2005
I have the 2004 Sienna and have had one problem right after another. The radiator ruptured/engine over heated, there was a recall on a hose in the steering column, the Dvd screen was replaced and then the entire DVD player was replaced(Took them 2x to get it installed correctly), the front seat belt was replaced, now the middle belt is failing, the driver's window broke and fell into the door in a snow storm(took them a week to order another and they told me that not being able to lock the vehicle did not qualify me for a loaner car because it wasn't considered a safety issue), the cruise control is not working, the cd player won't tell me which track is playing, the driver's door seal has holes, and a fuel mixture sensor is being ordered to get the check engine light to go off. I don't think I should know the service staff this well with an eighteen month old toyota. Oh yeah, and the tires were completely bald before 30,000 miles. Minor irritations are: when the Dvd turns off, the radio/cd volume just about blasts you out of the car; and the air conditioner/heat is unbelievably loud in the back half of the van on anything above low fan.

-- Kaylyn Valentine, August 12, 2005
I have a 2000 Toyota Sienne LE. It now has 64K miles on it and overall is doing well mechanically. I heard about the sludge issue shortly after I purchaed the van so I have been religiously changing my oil every 3K miles and have been lucky so far. I have also escaped the problems with the doors.

Although I have not had these issues my 2000 Sienna LE is far from perfect. Shortly after purchase (Toyota Dealer in Springfield, MO that I don't recommend)I noticed oil pools in my driveway under the van. I loved over 80 miles from the dealer I purchased the van from and did not enjoy the buying process from them so I took it to the small town Toyota Dealer where I lived (St. Roberts, MO). They identified the problem and fixed it....and then fixed it again a few weeks later......and then again a few weeks later....and then I quit taking it to them. I'm a slow learner I guess. It was not losing oil to the point that it registered so we kept driving. When we were in Council Bluffs, IA to see family we took it to the Toyota Dealer there and they fixed it same day, case closed on the oil leak. Luckily all under warranty and no loss other than time and frustration.

My bigger problem with the van has been the inability to hold an alignment and premature tire wear. After the first set of tires wore through to the steel belts in less than 20K miles on the inner side I rotated tires regularly. I noticed my hands got tired when driving over an hour and finally realized I was constantly fighting a pull to the side. I kept taking it back to the dealer for alignments and they kept saying the machine says it was aligned. Everytime I had it aligned it would straighten out but would pull again within 500 miles. Long story short, after 3 dealerships I still have a van that pulls. I got one shop manager to drive the van and he said it did not pull for him. I just bought my third complete set of tires at 64K miles. The manual says use 205/70R15 or 215/65R15s so I used highly rated (by consumer reports)Michelin Pilot XGTH4 215/65R15s this time. Oh yea, and another alignment. We'll see how long these last. Since the van is paid off and is mechanically sound otherwise I tolerate buying new tires every 2 years as it is less than a new van payment for one month.

I also had to replace the radio due to skipping and my drivers side seat belt light flashes all the time. Overall, I am lucky given I have no sludge but wish I would have waited in line for the Honda.

-- Dan Fisher, August 18, 2005
Hi all, very interesting review and comments. We have a 2000 Sienna, and have the sliding door sticking on one side, and the sliding door button sticking on the other. Aside from these minor problems we are very happy with our Sienna. I just wanted to let the person who asked, an easy way to fix the button sticking problem. We keep a small pocket knife in the van, and when the button gets stuck in, we just put the tip of the knife into the upper crack of the button and it always pops right back out. Since we discovered this and did it a few times, the button hasn't been sticking at all. Hope this helps! If you can't carry a knife, any slim object will work. We've been known to use a credit card or driver's license as well.

-- Angie Anders, January 2, 2006
SOLUTION for the sliding door button.

This works for me when the button sticks. You make a fist and hammer the handle just below the button, the button usually pops out after one or two good wacks. I found this out after taking the door and handle apart to see if I could find out what was causing the problem. Yes, my 98 had sludge, consumed oil in 2000 and was told poor oil change habits. The value seals have been replaces and my fingers are now crossed.

-- Murray Smith, June 17, 2006
I have a 2004 Sienna XLE and have very consistent problems with the run flat tires. Every time the tires are rotated the front tires get really choppy --- like they are out of balance. Toyota has recently issued a recall/problem sheet from Dunlap. Dunlap Tires just can't get these tires right so I've had 3 sets of tires on the van already --- every 15,000 miles after they rotate. The current tires are doing the same because the dealer rotated the tires again. We wait again while the dealer tries to get info from Dunlap. We pay the deductible each time the tires are replaced but it is ridiculous that the tires are so bad.

We also had a very interesting/unique problem in the very beginnning. I noticed (as the primary driver) a knocking sound in the front end. My hubby thought it was from jumping a curb at one point. After several trips to the dealer it was finally determined the van was built without the sway bar in front. Ticket for a potential disaster and luckily we never had a accident. They had to order the part from Japan.

Overall, I'm satisfied with the van but I agree with several of the other comments.

I too feel a lurching forward with the van when a press the accellerator at times. Braking is sometimes touchy too. Minor problems one shouldn't have for an expensive vehicle.

-- Kathleen Bolton, June 29, 2006
We have a 2005 Toyota Sienna LE. Along with the car purchase in end of May 2005, we also purchased a service contract at Power Toyota Irvine. I only have about 14.7K miles on it so far (after 14 mos). But due to the service conrtact, I was forced to bring the car in for service no matter what. I brought the car in today for 15K service and the dealership called me and told me that I must replace the brakes and rotors for $500 and they told me it is not covered by warranty! First, I didn't feel anything wrong with the brake. Secondly, the van only have less than 15K and I braked normally, how could it be? I talked to one of my coworker who owns a 2004 Toyota Sienna XLE, he told me that he has the same issue and was told by Tustin Toyota to fix it at about $500, too. And he said he brakes normally and can't believe he has to fix the brakes so early. I think there must be some design problems that cause such problem. Of course, Toyota won't admit that and will claimed it is user's problem. Does anybody has similar expereience?

-- Faye Lee, July 14, 2006
I have a 2004 Toyota Sienna XLE. It currently has 14,300 miles and the front brake pads have worn. The inner left pad has worn significantly more than the outer left and the front right pads. The dealership is stating that this normal wear and tear. I have never had a car go through pads in this short of a time, or with uneven wear. The dealership will not budge. I have a complaint in with Toyota and as of right now I have not heard back from them. If you have a similar situation, please e-mail me immediately.

-- Robert Pistani, August 22, 2006
To fix the sticking sliding door button: Get yourself a spray can of white lithium grease from the auto parts store. Spray generously into the crevice between the button and the door. You can gently pry the button out with a screw driver covered in duct tape (to prevent scratching), and work the button in and out. It took me 15 minutes to solve this problem.

You may also want to squirt some penetrating oil in there and allow it to drip down into the door first. This will cut through the white lithium grease, so put this on first.

-- Dean Morrell, August 31, 2006
I am the persistent owner of a Toyata Sienna '99 LE...Persistent because I have not given up. I don't have time to deal with every problem I've had, just the ones to keep it running and safe and passing inspections. So far--

Engine blew after about 65K miles. Air conditioning system has been replaced 2X. CD player stopped working many many years ago... Passenger side remote door sometimes has a mind of its own (won't work, will work, won't work...)

Most curiously, I have had a wide variety of light problems. The turn signals don't always turn on. This is remedied by sharply punching the top of the dashboard (which always freaks out my passengers). The inside dashboard light sometimes doesn't work (but violence doesn't solve it). Once when the car was in park, the emergency flashers came on by themselves. Another time (once) I couldn't get the turn signal to turn off! (had to turn off the engine to stop the flashing). Fortunately --KNOCK ON WOOD -- I have NOT had a problem yet with the headlights suddenly going out as I'm driving at night(and I have to ask, why do I test fate?). The interior lights go out on the left, driver's side of the car--in the front row of seats, the middle row, and the back row. Lights on the right-hand side are ok, left-hand side always goes out.

The driver's side visor came with a mirror and light on the back side... the mirror and light unit randomly fell off into my lap one day as I was cruising down the interstate--that was a shocker.

The front tires need frequent replacement--glad to know I'm not alone in this problem.

Currently my check engine light is on...and I'm trying to determine if I should be paranoid about the engine going a 2nd time. I will NOT be buying another Sienna. My sis-in-law was very excited when she bought a new one a few years ago and has had no big problem. Our family is on the cusp of outgrowing the minivan era...so I look forward to retiring this oddity to the memory books.

-- Debbie Winter, September 1, 2006
We purchased a 2004 Sienna XLE Limited that now has 48,000 miles on it, from Panama City Toyota in Panama City, FL. Overall we have been very happy with the van, although we have had some issues. First, the air conditioner, which is a front and rear climate control system, went out and began blowing heat instead of cold air. This is a major issue where we live (Florida!). We took it in to be repaired and they charged us $130 for a test to check the hoses, reported all was fine and system was now working. They added freon. We questioned it, but were assured it was fine now. 2 days later, same problem. We took it back, and after a couple of days at the Toyota service center, they determined there was indeed a problem other than low freon (I wonder, was it really low in the 1st place???!) So they quoted us $690 in addition to the $130 we have already paid. After much discussion, they finally agreed to make the repairs at no further charge to us, due to our shattered confidence in Toyota quality.

Other problems we have experienced: Intermittent engine knocking (I hope this is NOT the sludge issue everyone else on this site seems to be having!); Intermittent passenger side automatic door lock button not working properly; Intermittent problems with hydraulic rear door opening. The Toyota service facility at the dealership has never been able to duplicate any of our complaints, therefore they have done nothing to fix it. I have insisted that it be documented for future reference in case the problems become permanent. Not that it will matter, they'll still charge me an arm and a leg for the repairs I am sure!

One more thing - we got the ToyoGuard which is a guarantee on the paint (among other things). Well, don't waste your money on that - the paint pits and peels as bad as any car I've had...and of course, they blame it on the consumer not taking proper care of the vehicle. Well, we spent $48,000 on this car just 2 years ago - I certainly should not be looking at needing new paint at this point, even if I had kept it outside (not garaged) the entire time. Ridiculous!



-- Pamela Turley, October 5, 2006
Our 2000 Toyota Sienna is just one of those cars that did not work out for our family the way we planned. It now has 86,000 miles on it and it limps along as we try to get our useful life from it. We had the blue smoke problem beginning at 23,000 miles in 2002. The car was a dog despite our attempts to maintain it. I took it to the dealership and they said it would cost $4,000 to fix. They explained the process of filing a complaint, getting your ID no. and producing the receipts, and they would analyze the problem and let me know how much it would cost. It sounded like they did not really want to perform the warranty work. So, I increased the frequency of the oil changes, desludged the engine with chemicals and it ran until it had 58,000 miles on it, with occassional blue smoke. At 58,000 miles in 2004, the engine light came on and there nothing I could do to extinguish it. I went back to Toyota, but was again discouraged despite the new process they had for dealing with claims. They said if I agreed to pay for a bunch of maintenance, like timing belt, replace some pumps and hoses, they would consider repairing the sludge problem. So I asked what's it going to run me? They said the sludge remedy was replacing the short block, which was a $4500 repair, then the timing belt, plugs, pumps, and hoses would run another $2500 or so. Provided Toyota OK'd my claim, the cost would be just the $2500, if they didn't then it could be $5,000. They told me they wouldn't know how much it would be until after Toyota reviewed the claim. This was scary territory for me. That was alot of my money Toyota was throwing around and they weren't going to tell me what the cost until after the work was inititiated. I could not risk that much on a car and in a company I had lost confidence in. I went to a local repair shop, and they thought they could fix the problem for $1500, but they would not be able guarantee no blue smoke. They asked if I would like to do the timing belts while they were in the engine. I said sure. The total bill was projected to be $1700. While the bill was still more than I wanted to pay, it was a defined sum of money and they got the minivan up and running again. It turned out one of the valves had failed. There was quite a bit of sludge around all the valves, but the valve on the no. 1 cylinder was completely burned through. The car still had the occassional blue smoke, but it was running pretty well. Now at 86,000 miles, the smoke has become more prevalent, and the minivan is burning through quite a bit of oil. I recently replaced the plugs and the battery. It is burning through about one quart of oil every two weeks. I kid with my wife now we are on a automated oil changing regimen. I don't know what the best course of action is any more, if we keep the van and run it until it dies we might get another couple of years out it. Fixing the blue smoke problem seems unlikely, since it probably has worn rings as well which are probably compounding the oil problem. I will return to our non-Toyota mechanic and get his best opinion of what we could do with the car. E-check will be in 10 months, and the chances of it not smoking during the e-check are pretty slim. We really had hoped this car would be a better experience than it has been, but we are resigned to deal with it as our problem. Our other plan at this point is to trade it in and move on to a non-Toyota product. Anyone experiencing the sludge problem would have a very hard time placing trust in a name like Toyota again.

-- W Lewandowski, April 30, 2007
toyota


We'll we purchased a 2005 toyota sienna in June of 2005. I have done the oil changes on time every time like toyota said every (5,000 miles) done the tune ups. and I still have bad luck with cars. I had to replace the tires twice (Bad Wear) need new rims (bad rims) my side door decided to quit working even manualy (cable fraying) I have to different noise that I can't find where they are coming from. The big things THE SLUDGE IS COMING! My AC just quit. I have changed Brake pads in the front FIVE times and in the back TWO times. It started without any road noise, now alot of road noise just like Caravans. Just having it for 6 months a had a fuel problem with it, but luckly for warranty's and my battery just deciced to quit like that. So all this in TWO YEARS.

-- Diana Harrop, May 14, 2007
I have a 2005 Sienna. I finally got the door poping fixed but have had a horrible time with the electronic sliding door. If someone tries to open the door while you are remotely unlocking, the door jams and cannot be opened. I have had it fixed twice under warranty and now am out of warranty and it is going to cost a lot to fix. They say that some plastic piece in the door will break. Anyone have any ideas?

-- Michele Mathis, March 18, 2008
I also bought a 2004 Sienna CE I purchased new in 2003. One problem I ran into is that its gas line broke right under neath the drive seat - for no aparent reason!!! It was so dangerous. My mechanics said I should complain to Toyota since it just made no sense to have such a fatal flaw. It probably qualify for a recall. I'd be open to suggestions. Another problem is it recently became incapable of starting cold. Last year it happened once and I added some gas treatment. Either because of the warm weather (in DC) or the gas treatment worked, it didn't happen until yesterday. We're now in 20s F. My Sienna CE is now grounded. I don't know what to do. Forecast says the cold front will be here for another week... oh my! Otherwise, it's a good car.

-- JJ jadwag, January 5, 2010
I am the 3rd owner of a 2000 Sienna XLE. I bought it from a neighbor in 2007 in the Dayton, Ohio area. It had 89,000 miles on it and the original owner loved it. It was my neighbor, he took care of it (oil changes every 3k etc.), so what could go wrong? I put about a grand in it for all new brakes, shocks, struts, ball joints, tie rods, linkage, fuel/air filters, plugs, wires, hoses, trans filter/fluid, you name it. Did it all on my own. Best $$$ I've spent.

Well, now I live in rural Germany and have nearly 120,000 miles on it. It is without a doubt reliable and easy as heck to work on. My three kids under 6 beat the snot out of it, literally. Germany beats the snot out of it--what am I saying!?!?! They don't plow in the winters; period. Aside from the Autobahns, the main streets are rougher than anything in NYC has to offer; especially in rural areas like mine.

It won't win any prizes, makes some noises; but I have decent mechanical expertise, well above average, and this van has been great. Some sludge on valve covers, not an issue, but oil changes should ALWAYS come at a 3k interval regardless of the owner's manual!!!! Then again, it's got 120k miles on it so who cares??? But I still change at 3k regardless.

When I bought this thing it was an experiment: I had an F150 and a GM POS car at the time. The F150, my 3rd, was reliable AND pretty. This one is ugly yet reliable. I'd buy another Sienna in a heartbeat, but if the price were right. I think Honda probably makes a better van (in-laws have an '03 CRV with MORE miles than my van and is like new). But this van is like Rocky Balboa for crying out load. Rough around the edges but with a little work, she won't let you down!!



-- Stephen E, July 1, 2010
1998 Toyota Sienna v. 2010 Sienna

I have the old version. I bought it from a Turk who used it for a construction vehicle, 105,000 miles of hard use. "Too many miles!" said Dear Ol' Dad.

I now have 235.000 miles on it all extreme use - hauling sheetrock, lumber, dirt, concrete, paint, parts, etc. I took out the rear seats and threw them away. It's a mess, covered with dents, scratches, stains ... but it runs great.

I was going to change the timimg belt @ 210,000 miles but I will let it go. I bet I could get another 50,000 miles without the new belt. It leaks oil from the main seals and has no rear shocks. Toyota uses soft steel for its fasteners and bolts everywhere on the car break off. (The windshield is also broken).

The 24" blizzards of last winter paralyzed the region but some tire cables there was nowhere I could not go.

I change the oil every 3,000 miles religiously, with 20w50 Pennzoil. I put on new brakes, tires, did minor repairs, replaced light bulbs, fixed on the exhaust (putty and a strategic bungee cord.) I will drive to Maine and back in a few days, no problem since I usually drive that much in 3 weeks where I live in VA.

My brother just bought the new version. This after having the 90's era Camry lose its transmission @ 103,000 miles. Camry & Sienna have the same running gear. The new Sienna is not able to take any sort of pounding or heavy use. It's also a whale compared to the old version. The old Sienna is relatively nimble. The new version is also a gas hog @ 20mpg on the highway. Pushing those extra pounds costs at the gas pump.

If I put $3000 into the engine, shocks, windshield and and a fluid change on the tranny I could get another 250,000 miles. If I took it to a body shop and put new carpets into it I would prefer it to the new one. Instead I look forward to driving to a junkyard and signing over the title.

-- steve from virginia, July 29, 2010
I am so dismayed to read all these comments about everyone else having issues with their Toyota. I wish I had seen them BEFORE I bought my 2005 Toyota Sienna. The very week my warranty was running out (February 2010) smoke started to pour from the tailpipe. Took it into the dealer and yep! same ol' same ol' story as everyone else - it was my fault because it had sludge and I had not changed the oil often enough. They would not honor the warranty because I could not produce 10 oil receipts - I had five. Who keeps them anyway? They wanted $1500 to fix the problem, which I did not have. I took it back and took it to another mechanic to help me out since they would not honor my warranty. When the mechanic told us he knew of Toyota's having oil issues, I was furious. But alas, the very next week is when Toyota was in the news for acceleration problems in its vehicles and we could NOT get through on the Toyota Corporate line to lodge a complaint. Seems like it would be a moot point anyway seeing that no one else has seemed to get resolution. So now I have a paid off vehicle with less than 60,000 miles that needs a new engine. How do I know putting a new engine in it will solve this issue? I wanted to keep this for as long as I possibly could and am so bitterly disappointed. I will never, ever buy another Toyota again. My husband wanted to buy a Toyota truck but has since changed his mind. His Dodge Ram is 13 years old and has been the best vehicle we've ever had. Hmmmm. . . may just be heading to the Dodge dealership soon . . .

-- Anne King, August 9, 2010
We have sold many Toyota Siennas and have yet to experience the severe problems and complaints posted here.. That said it does give me things to be wary of and for that I thank you! Tom

-- Tom Dyer, April 5, 2011
I have a 2008 toyota Sienna Van, I had to replace the front brakes at 24,000 miles and the rear at 37.000. The toyoyta brakes are junk, like the tires Dunlap they put on van. I had a bloow out with a giant hole and the tire compnay said, the dunlap tires they put onthere was the chapest of them all and poor quality. So I had to change out all tires at 28,000 miles. I know one thing for sure Toyota is far from quality. What this van does is pay for your dealers eletric bill to employees pay. I havd vans and my breakes did not wear out to about 40 to 50,000 miles. I bought this vehicle brand new and already has cost me more then it is worth, I can see why they have a good buy back because you have to change everything out because everything it came with falls off are wares out. The best thing to do is buy the midas or someones life time brakes and see if there is a brake roter protection to. Just don't buy a van from toyota. you will regret it.

-- SUZANNE COLLINS, June 28, 2011
I think many people who buy minivans or SUVs or CUVs would be better served by a wagon. It has the handling and performance of a car but the cargo space of a SUV. Something like the Saab 9-3 Sport-combi or Volvo V70 or Cadillac SRX.

-- Frank Bailey, September 20, 2011
i bought a toyota sienna minivan. what i love in this minivan it has tons of innovative features and even more available options. the pros for this it has smooth-row seat, seven to eight passenger seating configurations, great fuel economy available all wheel drive. toyota repair is same as the ordinary repair done.

-- wein klein, November 16, 2011
I have had too many problems with my Sienna mini-van: sliding doors problems, back door latch failing on a yearly basis, and engine issues. Bought (first hand) a 2001 Toyota Sienna XLE (v6). First couple of years were fine. Noticed around 2007-2008 that every trip that involves the highway will result in the oil to vanish as the Oil light will turn on. I ignored the issue at first as a mechanic indicated there was no leak. I simply put more oil and things were fine up to the next trip. I then noticed that a gray vapor was coming out from the exhaust each time the car was started (morning). In 2009, I took the car to the dealer (Stevens Creek Toyota). It cost me 3K to fix the issue (they indicated the engine needs to be removed and cleaned). I really didn't get the real problem but just wanted to fix the problem. Unfortunately, the same problem started happening few months later (2 or 3 at most). In 2010, we went for a summer vacation (500miles round-trip) and again lost all the oil.. The dealer was not helpful at all, as he kept finding excuses and asking us to put oil and come back after 500 miles.. but again nothing happened as my wife did not use the highway (which triggered this issue). A couple of days ago I spent $400 for overall car maintenance (104K miles now) and headed to the mountains. This time got the scare of my life as the engine started vibrating big time and the engine light started flashing. Immediately took the car to a nearby mechanics who indicated that one of the pistons/cylinder was unusable. He showed me the associated burnt spark-plug while the other ones were OK. The mechanic changed the sparks and added oil and asked me to head back home (as we were around 200miles away) though using low speed. I managed to reach home (though with a lot of shaking). For the first time, I started reading the blogs to see whether others had similar issues. Immediately found the following link http://www.oilgelsettlement.com posted by Toyota v6 owners (camry, sienna, ..). That seemed to correspond to the oil issues I was having. I went to the dealer (Stevens Creek Toyota) to talk to the manager. As usual, no help whatsoever. The only thing that mattered to the manager is to avoid a lawsuit. I asked him why Toyota never told me about the sludge issue. Again, he used pretext after the other so that Toyota does not pay a cent. He indicated that I needed a new engine and this would cost me 7K.

Conclusion - Our mini-van became unreliable after few years of usage and low mileage. But the biggest disappointment that I have is with the dealership which is an expert at taking your money without anything in return even when they screw up. No compassion, no professionalism. Toyota used to have reliable cars but not anymore. I WILL NEVER BUY A TOYOTA EVER.

-- josh derick, December 31, 2011
thanks for the review, that is helpful. I didn't know the new Siennas were designed in the US - that accounts for the combinatorial explosion of trim levels and concomitantly ludicrous pricing, though.

My 1998 Sienna looks just like your old one.. love the minivan concept, hate this implementation. We've dodged the sludge issue, now at 225k, but it's the most unreliable car I've ever owned. Since buying it used in 2002, it has been in constant need of repair; quite literally not a day without a problem.

-- Doug Kaye, November 28, 2012
Add a comment
Related Links
Add a link