Travels with Samantha
by Philip Greenspun

Home : Travel : One Section
---
"This book is about the summer I spent seeing North America, meeting North Americans, and trying to figure out how people live," writes Greenspun after losing his companion. You'll come face to face with examples of the stunning ethnic, scenic, and cultural richness of the continent.

Meet both sides of the language war in Montreal, bored youths in the Midwest, North Dakota Harley riders, struggling single mothers in the Yukon, and free spirits in Alaska. Join Greenspun as he travels up the spine of the Rocky Mountains into Canada and then up the Alaska Highway. Splash down in a float plane and spend a week with 20 bears.

Work your way through the Inside Passage on the Alaska Marine Highway, and get inside a salmon processing factory. See if Greenspun survives touring Vancouver, Vancouver Island, and the Pacific Northwest with old friends and new. Ask about polygamy in Salt Lake City, mountain bike the Slickrock Trail, and learn how to live with AIDS in Utah. Watch the waters recede from the Great Flood of '93 in St. Louis. Follow Greenspun back to Boston and MIT.

[Chapter 1 | Table of Contents | Other Voices | FAQ | Print Edition | Kindle Edition ]
---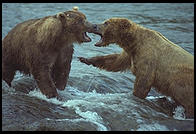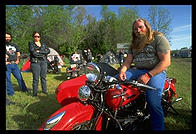 ---
Readers and subjects alike praise Travels with Samantha
"You make me sound like a world-class caustic nympho bitch."
Jennifer M. (Boulder, Colorado)
"I'm a member of GOSA, the Geyser Observation and Study Association. I found that you seem to have investigated roughly five times as many attractive women as geysers while you were in Yellowstone. To each his own. If you hadn't seen Echinus at midnight, though, I would have been sure you were purely a poseur. Not one word about Grand, about Castle, the Lion Group, the difficulty of catching Beehive, the maniacally explosive madness that is Fan & Mortar, the isolated ocean of Artemisia...did you see nothing of any of these?

How can you say you saw America? If you saw as little of the rest of America as you have written about the geysers of Yellowstone, you saw nothing."
Mike O'Brien (Venice Beach, California)

It would be nice if modesty prevented me from mentioning that Travels with Samantha won a Best of the Web '94 award.
---
"What is a good argument, What might be called a good description, What is style? Unfortunately, I do not have an answer to these questions. However, sometimes I know for sure that something is neither a good argument, nor a good description and has definitely no style."
Dietmar J. (Freiburg, Germany) (commenting on Berlin and Prague)
---
All text and pictures are copyright 1993 Philip Greenspun
---
philg@mit.edu